Con la conferenza stampa #FIA dei piloti prende il via il 14° round del Campionato del Mondo di Formula 1 2017, il GP di #Singapore. Di seguito il transcript delle due parti, che hanno avuto come protagonisti Fernando ALONSO (McLaren), Lewis HAMILTON (Mercedes), Jolyon PALMER (Renault) e Kevin MAGNUSSEN (Haas), Daniel RICCIARDO (Red Bull Racing), Lance STROLL (Williams).
Redazione MotoriNoLimits
PART ONE: DRIVERS – Fernando ALONSO (McLaren), Lewis HAMILTON (Mercedes), Jolyon PALMER (Renault)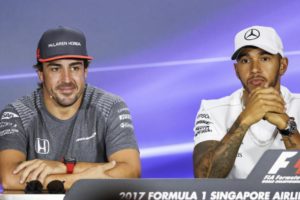 Fernando, these 2017 Formula One cars were intended to be more physical. Everyone seems to have coped fine so far, but is this the race that the drivers are expecting to be really tough?
Fernando ALONSO: Probably, yes. I think this one and the next one, Malaysia, will be the two races that will be more demanding physically, but as you said, I think there was more news in the winter than what actually we got when we went in the cars, so I think it's going to be OK and no problems for anyone.
And what news of you? Are you happy with the direction things are going with the McLaren? What have you been telling the team this past month or so?
FA: Not much.
Any idea when we will have some news from you?
FA: As I said, I will think what is the best option and as I have said many times, whatever I do next year is because I want to win. I will not be around in any series to be fighting for top 10 or top 15, nothing like that. There are many options out there that I am studying, that I'm looking at. As I said, Formula One is my first and only priority and I will wait and make a decision on that before making decisions on other series. And at the same time, I want to give time to my team, after the last three years, with some struggles we went through together, to have time for them to make decisions, to see the future, next year's car and after they take their decisions I will take mine. I want to stay loyal at least to that and not make any decisions without them making first their decision. So relaxed, happy and we'll see what's going on in the next weeks.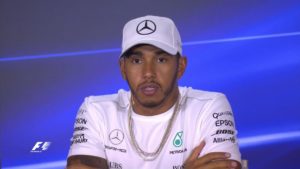 Thanks. Lewis, world championship leader at the moment and also like Fernando a two-time Singapore Grand Prix winner, you've had four years without this guy in your face at grand prix races, battling you for the wins. Is it too strong to say that you have missed those battles and do you believe that he might be battling with you again next year?
Lewis HAMILTON: I hope that he has got a car to fight with us next year, I think that only adds to the spectacle and the challenge. We want to see the best drivers and the best teams up there and it's been a shame not to have McLaren where they have historically have been. So I hope that whether it's with McLaren or wherever Fernando happens to be next year that he has the chance to be fighting with us.
Obviously massive weekends for you in Spa and Monza and particularly that win in Monza and the all-time record on poles. Speaking of poles, pretty critical here. I think it's seven of the last eight Singapore Grands Prix have been won by the polesitter and the only exception is you, when you broke down that time in your last race here with McLaren. So would it be too strong to say that your focus this weekend is on that single lap and perfect execution on Saturday?
LH: I've not really put any thought into it yet; the work goes into it today. I think qualifying, of course, if that is the case… you can't really overtake here, plus the cars are wider, so positioning is going to be very important, so getting the car set up right so you can execute in qualifying I guess is one of the key matters.
And there is the feeling that you might be up against it a bit more here compared to Spa and Monza from the Ferrari side, and possible Red Bull as well?
LH: I think Red Bull will be fast this weekend and it's knowing that it's not going to be easiest of weekends potentially, but man I'm coming with positivity and with the plan of winning this race. This is still regardless of if that is the case, the others potentially have a little bit more downforce, whatever it is, we have worked as hard we can to understand the car and we come here with full attack.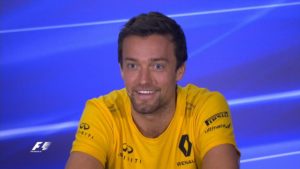 Thank you for that. Jolyon, there has been a fair bit going on behind the scenes in Formula One in the last few weeks particularly around Renault and the teams it's going to supply in the future. What does it all mean for you?
Jolyon PALMER: Well, firstly, I'm just focused on doing the job I'm doing, so I try not to pay any attention to that sort of thing. For me, I have seven races this year to try to do the best that I can. Yeah, obviously it has been a bit of tough year. The last two races were much better, even if they didn't show in the end. The performance has been there or thereabouts, so hopefully the car will be better on these tracks and we can finally get some points.
Your role is pretty critical now in that very tight midfield Constructors' battle. You've had, I think, five retirements, and four times this year you have been the first car to retire in a grand prix. Has it stopped you from showing what you can do in Formula One?
JP: Yes, because clearly when the car is not working you can't drive it, you can't try to score some points. I think there have been a few places, Silverstone, for example, I didn't even start the race and that was quite a strong race for us. Baku, I think 11 cars finished, I think a Sauber got the points and we broke down after, again, five or six laps. So definitely it's not been ideal to have that level of reliability problems, but also in the practice sessions, to lose so much puts you on the back foot for the weekend. But the team has been working very hard at the same time in trying to fix it. Every time something happens we are finding out why, learning from it and we keep getting different problems. But hopefully we have put a stop to that now and I think, like I said, the car is going to be strong, especially in these next few races. So we're going to have a good car, good reliability, good performance and finally I can show what I can do and score some points.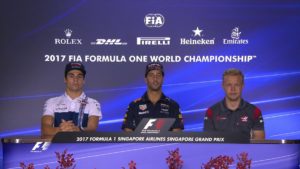 PART TWO: DRIVERS – Kevin MAGNUSSEN (Haas), Daniel RICCIARDO (Red Bull Racing), Lance STROLL (Williams)
Q: Kevin, a good record here with points on your previous two visits. You and Romain both looked good in Monaco as well so is there some optimism at Haas this weekend, especially given the tight midfield points battle that you're in?
Kevin MAGNUSSEN: Yeah, I'm quite positive about the weekend but to compare with… Monaco was quite OK for us but a lot of things have changed since then. Other teams have been developing, so have we but it's difficult to say that we're going to be as competitive. But we'll see. I'm positive.
Q: We talked in part one of the press conference about the importance of qualifying here in Singapore. Amazingly, you're the only non-Sauber driver yet to reach Q3 – without engine penalties I mean – so presumably that's a massive priority for you this weekend?
KM: Yeah, it is. We've had the pace a couple of times but just had some issues with the car and reliability problems that meant that the times that we were actually strong enough to do it we didn't do it. It's not something I think about too much, it's more the points that count for me. It is something that I would like to happen. I'll let it happen when it does.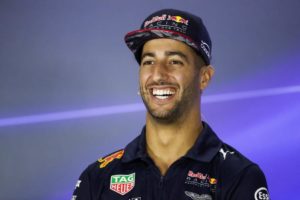 Q: Daniel, coming to you: new go-faster haircut is it?
Daniel RICCIARDO: It's pretty aerodynamic. I won't take the top off. It's a bird's nest up there!
Q: Front row of the grid the last two years here at Singapore, last three years on the podium; does the car you have this year allow you to dream of more than that?
DR: I think so, I believe so. We've certainly got stronger and stronger and I think (that on) the high downforce circuits we've been pretty good but getting better. I think, also, looking at the last race, on the low downforce circuit we had really good pace on the Sunday which was a little surprise to us. With that, coming here, with a few updates as well, we should be there. It doesn't seem like these sort of circuits, this year, are a strength of Mercedes either so I think it could bring Ferrari and us really into that battle. I hope, at least, it's going to be a tight and exciting one.
Q: And looking ahead to 2018 and the question of progress, what progress will satisfy you next year?
DR: You know, we want to win, want to win and win more. We've fortunately got one this year. I believe we can win another and then obviously next year to start accumulating more and obviously fight for a title, that's what we really want. Yeah, we're certainly going in that direction, particularly since if I look back at Melbourne, that feels like another season ago. We're in a completely different position so progress has been good, I think we've got to keep that going to Abu Dhabi and then make another step across the winter to start strong for 2018.
Q: Lance, youngest ever front row starter in Monza last time out and a solid run to seventh from there, how did you enjoy life in the fast lane and was seventh the maximum?
Lance STROLL: I enjoyed the weekend, it was a really solid weekend, Saturday, Sunday, especially Saturday, that was really the highlight of the weekend, if you ask me. In the wet was a good opportunity. We really pulled it out of the bag and that was great. I enjoyed that. I don't think seventh was the maximum, no. I think fifth was possible with the pace we had. Unfortunately I got squeezed by Lewis at the start so I had to back out and I was kind of boxed in and Esteban managed to get around the outside of me so that wasn't perfect. Again, the pit stop took I think 4.4 seconds so mathematically we were supposed to get in front of Esteban or at least have a shot, side by side, coming out of the pit exit but that didn't happen and on top of it we lost a position to Kimi so it wasn't a perfect race, we were pretty compromised being stuck behind Esteban throughout the whole race but again, that is racing, you do face adversity so it was still a great result and if we could continue scoring solid points like that, P7s, P8s until the end of the year I think we will be really happy as a team.
Q: On some tracks this year you've been right there from the get-go; is that just a question of feeling or is it something more technical than that and from what you know of Singapore, do you think this is likely to be another one?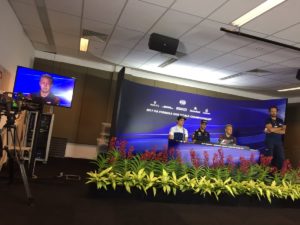 LS: It's a bit of both. It's a combination of driving, feeling and the car as well. I don't know here at Singapore. It's a bit different everywhere. Generally, yeah, I quite enjoy street circuits: Monaco, Baku. It's fun when there's a consequence when you make mistakes, I think it makes it a bit more exciting. Obviously it's frustrating when you do hit the wall and stuff, I'm not saying that but I quite like the buzz of being close to walls and the whole rhythm you have to get into on a street circuit. It's always good fun so I'm looking forward to driving round here. Hopefully the car can be competitive this weekend. I know it's not exactly our kind of track. We've seen over this season that low downforce, long straights, slower corners – that's really been our strength and higher downforce we've really really struggled. But I'm positive that with the whole team and everyone we've thought of solutions to improve that for this weekend. We've just got to what we do and see what happens.